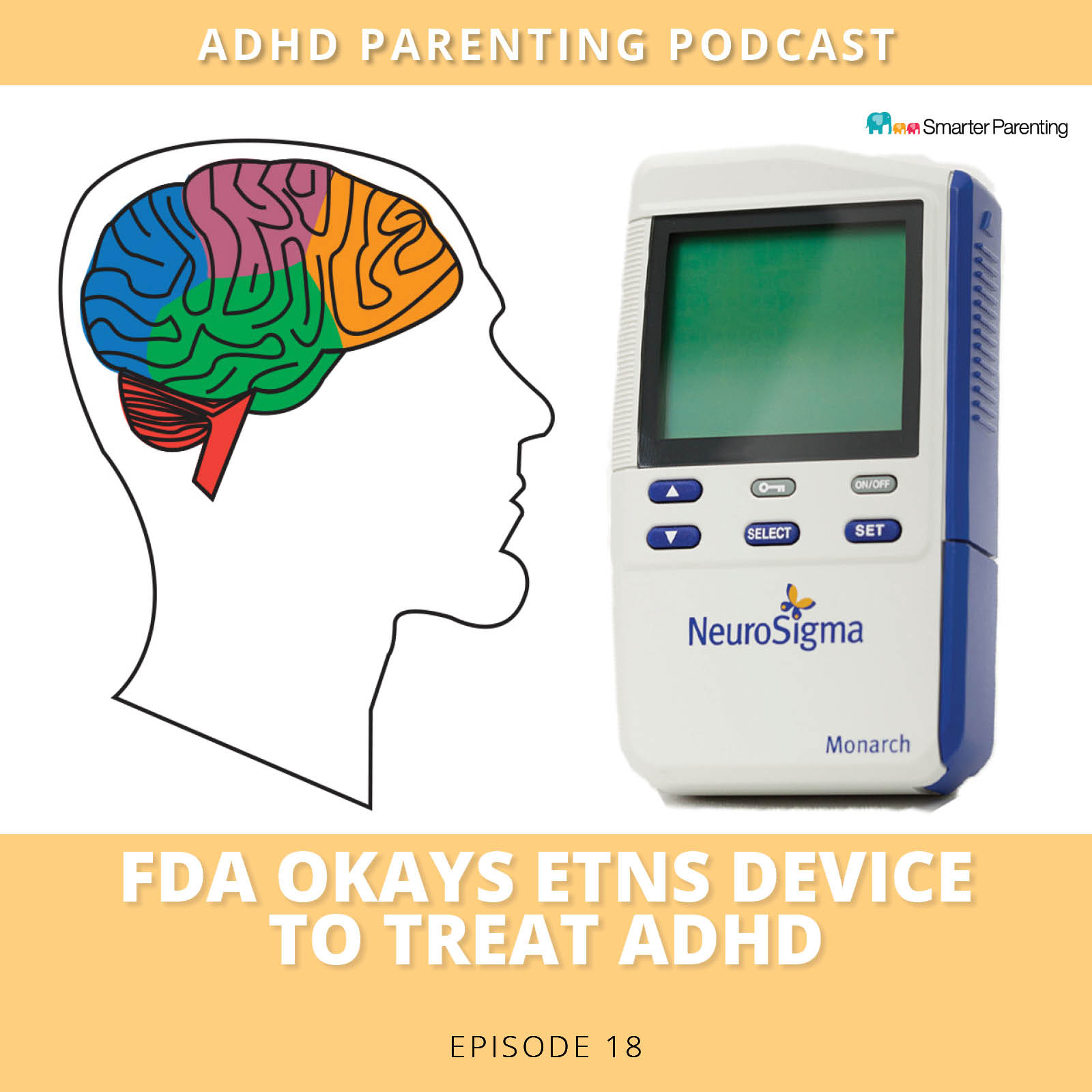 In episode 18, ADHD parenting coach discusses the FDA's approval of eTNS device to treat ADHD. It has been approved to treat children from 7 to 12 who have been diagnosed with ADHD and are not currently on ADHD medication.
Carlos Peña, Ph.D., director of the Division of Neurological and Physical Medicine Devices in the FDA's Center for Devices and Radiological Health, said of the device in the press release. "This new device offers a safe, non-drug option for treatment of ADHD in pediatric patients through the use of mild nerve stimulation, a first of its kind. Today's action reflects our deep commitment to working with device manufacturers to advance the development of pediatric medical devices so that children have access to innovative, safe and effective medical devices that meet their unique needs."  (https://www.medpagetoday.com/neurology/adhd-add/79346)
The eTNS (external Trigeminal Nerve Stimulation) system is a nerve stimulation treatment that delivers low-level stimulation to branches of the trigeminal nerve. The pulse is delivered via a patch on the child's forehead.
The belief is that by stimulating the Trigeminal nerve, signals are sent to the brain controlling the areas that control function, which is one of the areas in which ADHD children struggle.
According to the manufacturer, the device is as big as a cell phone, and the treatment is administered overnight. It is not currently covered by insurance and costs about $1,000.
When new ADHD treatment options become available, it's easy to get really excited about what the new treatment means. One of the concerns with the approval of the eTNS is that we don't know the long-term effects of the device. 
The trial period of this device was only four weeks and involved roughly 60 kids. They did see a reduction in treating ADHD with minimal side effects. With that length and sample size, we don't know what long-term effects of sending electrical pulses to the brain will be.
This new device is just one of the non-medication treatment options available to ADHD children. Other options include the behavior skills available on Smarter Parenting.